It is Friday, which means it is time to link up with Doodle Bugs Teaching for Five for Friday!
1. I know I already posted this week
HERE
about the George Washington directed drawing I found from
Kindergarten Planet
HERE
, but I had to share how the Abe Lincolns turned out too!! How cute are they!
"If * had a tall black hat, she would put a make up kit in it because so I can put it on."
"If * had a tall black hat, he would put Blake and Jackson (his friends) in it because I can play with them."
For this activity we read the book Abe Lincoln's Hat by Martha Brenner. Find it
HERE
.
2. After lots of practice, sorting, writing, dancing, singing and doing whatever it takes I think I am starting to break some of my little friends of the curse of the b's and d's.
We have been doing lots of the activities found in this
UNIT
.
3. We used some fiction books that we read about Washington and Lincoln to learn about characters and character traits. My kids thought it was so funny that they could say that Abe Lincoln was "messy" after we read Abe Lincoln's Hat. They also learned two new words/character traits- selfish and unselfish. I heard the words used several times this week...sometimes correctly and sometimes a little confused! I nearly died when I heard two kids talking in centers about being selfish cause someone was only thinking of themselves. The other student responded that it was okay for her to be selfish, because she does like herself just the way she is.
4. We started our space unit this week. The kids are soooooooo into it! Some of them know more about space than I do!! Stayed tuned for more pics and posts coming. Here is how we started our space unit. First we made spaceships (paper airplanes) and then blasted off into space. After all that hard work we ate astronaut food (mint chocolate ice cream)!!! So fun!!
5. Seuss-mania starts Monday! Yay! Monday is "Hats Off to Dr. Seuss", we will be having Hat Day in class, meeting "The Dr. Seuss" and reading the Cat in the Hat! If you are still looking for activities for next week make sure you may want to check out these centers on sale this weekend! :)
I hope you join up with Doodle Bugs Teaching!!!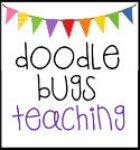 Have a great weekend!