Hi Y'all! My name is Carly Wizeman and I am so excited to be guest blogging today for Julie from Ms. Shope's Class Blog! A little about me.... I am a second grade teacher from Pearland, Tx (a suburb of Houston). My passions in life are...God, my family, my husband, animals, and teaching! I have taught for 5 years...all grades ranging from kindergarten thru 2nd grade! I'm super excited to be a part of this blog hop! This will be my very first!
My blog is called First Grade Fabulosity!
I created the blog when I was teaching first grade last year, but switched to second grade this year and ultimately decided not to change my blog name... :)
I love sharing all my ideas and passing along ideas that I have used from other great bloggers! :) 'Sharing is caring'..haha j/k...no, but really... I love sharing ideas! I'm sure my teammates get tired of me constantly saying, "Hey, look what I found!". I know it can be a bit overwhelming... Anyways...on to the more important stuff....
As I was trying to think of something to post today, I realized that I had a bunch of activities to share that I had done for the week before the Christmas break. BUT I figured that posting about those things wouldn't be as interesting since it has already come and gone. I figured most of you would be more interested in something that you might be able to use sooner than....ha! next year :)
So, I decided to share a classroom management idea!
This is my Word Card Board
In my classroom, I have lots of students that are always asking me how to spell words. Most of my students are great spellers but they have a few words here and there that they aren't quite sure how they are spelled. Most of the time I tell them to try their best and to write what they hear, but other times they are words that will be asked about frequently or sometimes words that can't be spelled phonetically. (fyi- These are not words that are up on my word wall.)
For this reason, I created a word card board. My students use this if they would like a word spelled for them. They go to the board, grab the corresponding letter card, and bring it to me. They let me know which word they would like to know how to spell. Depending on the word, I will either say.. "You can spell that one!" or "Go try that one on your own!", or if it is one that I think that student could use written down, then I will write it for them on the card or tell them how to spell it on the card themselves. Then they take the card, use it to spell the word in their writing and put it back in the pocket on the board.
The students will then continue to return to that card to look how to spell that word when they need it. Until...eventually...they will remember how to spell it.
Also, since all the students in the class are using it, sometimes the word they want is already on the card.
I have had this since my first year of teaching!.... I'm sure it is blatantly obvious with the handwritten letters (don't judge) haha :) :)
Some years I introduce the card board and my students don't really use it. In that case, I'll take it down if I realize my students aren't utilizing it... because it just takes up space. Other years, it is a big hit!
For instance, this year my students caught on very quickly and are using it constantly! Basically, it depends on the students whether or not I keep it up and use it for that year. I really don't pressure them to use it.
Now, that I have posted this... I'm starting to think it is time to make a new one :) That is another thing added to my already-too-long To Do List!
I have a last minute share!
ALSO! I found this idea on Pinterest! I use it as a ticket out systemin my class. I will ask the students a question about what we have been learning about or I will just ask them to share something that "Stuck" with them that day. The students must post their response before leaving that day.
Unfortunately, I didn't take a picture of the board before my students stuck their sticky notes on there, but you can still tell that underneath I had laminated sticky notes to the board with my class numbers...This allowed me to see which students had not answered yet. Also after reading the responses, I was able to see which students got more or less from the day's lessons..
The next day I might also use some of the responses to review the previous lessons before moving on...This makes the students try harder when responding so that their answer will be chosen to share!
I don't use it everyday, but I usually use it mid-week and at the end of the week. My students seem to like it.. they are always saying, "Hey, we didn't do our ticket out today!"
Just a little somethin' to share!
Well, I hope you enjoyed my guest post for Julie from Ms. Shope's Class!
Then...don't forget to come to my blog, follow me,
and check out my guest blogger, Tania, from My Second Sense!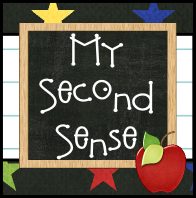 Have a Blast Blog Hoppin' today!
Thank you Carly for guest blogging on Ms. Shope's Class today! Be sure to head over The Resourceful Apple where I am guest blogging today. Click on the picture below to hop over and check it out! Happy blog hoppin'!!!